Hello and thanks for stopping by I've been blogging like crazy, making up for lost time I guess, just lots to share, hope you'll take time to read the last few posts.
Hey it's Saturday and I'm looking forward to spending time with my family this afternoon and evening!! Get to love on the grandbabies :-) They are such a blessing.
Well, I learned a new technique this week!! I'm excited, it's probably old hat to most of y'all but I had fun with it. I used Ranger's Perfect Medium and EK Success chalk for the stamp effect on each square.
(click to enlarge)
The flower stamps are from Technique Tuesday and the Sentiment is from Inkadinkadoo. Pattern paper is one of my favorites, Fancy Pants! I used Bazzill cardstock and Andirondack Dabber pink sherbert was used to color the edges of the 1-1/2 inch squares. This was from the "New To You Wednesdays at
www.cpcmag.com
(WTYW05 - POPPIN' PASTELS)
Have a super excellent day!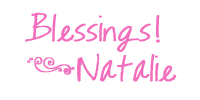 I was once in darkness, but now I am light in You, Lord help me to live as a child of light.