Hi and thanks for visiting!
I found a teeny, tiny bit of creativity inbetween Jakob's nap, fixing dinner and after Bible Study and I managed to finish this card for the Christian Paper Crafts Magazine Thursday Bible Verse challenge. Better know as the CPCM BVT05! The challenge was of course to make a card (as if you didn't know...) using black, tan & aqua colors only and a Scripture.
My friend and co-worker, Marcie let me borrow some older Scripture stamps for my Sunday School class so I used the Phil. 4:13 stamp for the card. (Thanks Marcie!) They may be from Stamping Up! but I'm not sure. The ink is StazOn Jet Black. I used DCWV "Nana's Nursery Baby Boy" line for the pattern paper, Paper Accents cardstock, a chipboard swirl (from my stash!) which I painted aqua (Andirondack Dabber), then sanded to let the tan color show through. I added pearls from Creative Charms for a little "bling" on the swirl. This card is a pretty simple design, which made it quick and easy.
On a personal note....
The weekend is coming up quick, it looks like it will be a busy one! Usually I have Fridays to run errands (alone) but I will have Jakob in tow due to his daddy and Uncle Sean heading to Chico to help oldest daughter Amy with her move back here. Amy is moving most of her stuff back here on Saturday to put in storage. Lots of activity on Saturday besides the "fun" job of unloading the UHaul (ha!), youngest daughter Kelly will be having her 2nd fetal stress test (and not helping with the UHaul!) This will be happening every Wednesday & Saturday until the birth of baby girl in June. Hopefully, baby girl will be cooperative so Kelly doesn't have to stay too long at the hospital each time. We are heading into countdown time c-section is scheduled for June 15th. Sometime during Saturday I have the fun chore of making a Dutch Apple Pie for Amy's friend Paul, it's a belated birthday gift and she promised one to him and somehow I got roped into making it (hmmmm....) So... those are the extras that are happening on top of all the regular stuff I need to do. I'm trying very hard not to be too exhausted before even starting my day!!! Lord, give me strength! I'm just praising the Lord that all my kids will be back close to home. It's been too long (12 years) since we all lived in the same county! That has energized me for sure! I'm one happy mamma!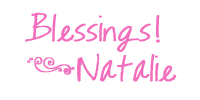 TEACH ME YOUR WAY, O LORD, AND I WILL WALK IN YOUR TRUTH; GIVE ME AN UNDIVIDED HEART, THAT I MAY FEAR YOUR NAME. PSALM 86:11