Jakob and Riley having fun with Tater (Riley's dog)
Playing in the backyard with a ball almost as big as Riley!

We had a beautiful weekend! Spring is here, YES! We had a fun evening over at our daughter Kelly's home last night, all my kids and grandbabies were in attendance! And I have to give myself a little shout out 'cause I kicked bootie at the bowling! I bowled a 210! Whoo-hoo! It was on the Wii, yes, the guys let us play between their football & fishing games. I think that has got to be the weirdest name! I hate even saying it because it sounds so dumb, "I was playing Wii" you've got to agree that it just doesn't sound right!

We (meaning my son and son-in-law) moved Amy (at least all of her belongings) back here on Saturday morning but she will be staying in Chico for two more weeks and then will be officially back in Humboldt County! Yippee!! To be honest she's not all that excited about the move back "home" but that's where the job is so I'm praying she will adjust and perhaps realize that it is good to be close to family. (She's moving into Gramma's huge attic) She's been away for 12 years! This mama couldn't be happier! And we told her "never say never" but I resist saying "I told you so" :-)

A couple more cute pictures of the little ones...
Riley Ann
Jakob waiting for Riley to catch up!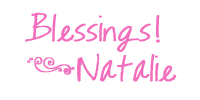 He who began a good work in you will carry it on to completion until the day of Christ Jesus. Philippians 1:6