Hello and thanks for visiting!!
I can't believe it's been a whole week since I last posted!
Time flies when you're having fun! Or in my case extremely busy and having fun :-)
I'm in the middle of a project for a baby shower gift (this Saturday!! Yikes!) and I can't wait to share! I love the new papers from MME
Pretty Please,
oh my goodness I love the combination of colors and patterns!!
Here is a little peak of the beginnings, I'm not nearly done with the embellishing!
(Sneak peak, I'm not finished!)
love the colors!
Here's another project I finished for a challenge at Christian Paper Crafts Magazine www.cpcmag.com . The challenge was a card with ribbon, purple, no stripes and a Scripture and this is what I put together for CPCM-LP01
Well, I'd best get offline, I need to get to town to buy a birthday gift for my nephew so that my mom can take it with her when she leaves for San Jose tomorrow morning and it's getting late!
Everyone have a blessed evening! Thanks for stopping by :-)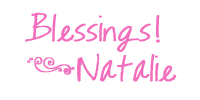 Let love be without hypocrisy. Abhor what is evil. Cling to what is good. Romans 12:9