Welcome to my crazy weekend and.... Happy World Card Making Day!
Since I do make cards I thought I'd best share one today since it is afterall, "World Card Making Day" so in honor of that here is my card!
CPC-CM24 and CPC-ST25
It is actually a card from two challenges that were made this week at
CHRISTIAN PAPER CRAFTS
From Color Monday and Sketch Tuesday! (and it's so much cuter in person!)
Little detail work: corner gradient snowflakes are stickers from Stampendous! I used two circle punches from EK Success punched out the paper and popped them up with a 3M product and added the silver Stickles to the center of the snowflakes.
Silver glitter dots are Stickles from Ranger. The paper already was glitzed up so I just added the Stickles to the white paper and the snowflakes. I popped up the little gingerbread man and the star, I did cut out the tree, but forgot to pop it up and already had it adhered, bummer. Oh well.
SU! stamp is from 1997!!! I guess it's retired (lol)
The pattern paper: American Crafts (Merrymint line - so cute! and double-sided) The pretty white background paper is from a wedding line and I'm not sure if it's Bazzill or not (oops! I'll try and find out). The ribbon is from American Crafts. I used Jet Black Stazon ink.
I had such an overwhelming week especially Thursday and Friday I totally spaced posting our
Bible Verse Thursday
challenge and
Fun on Friday
challenge (forgive me girls!)
Bible Verse Thursday
C
hallenge
: use your favorite verse pertaining to everlasting or eternal life. When uploading to Christian Paper Crafts gallery, use Keyword BVT25. If using an additional gallery or your blog, use the Keyword CPC-BVT25. There is no time limit on this but we would love to see this in the gallery over at CPC. Hope you play along!
Fun on Friday Challenge

:
We're having an inspiration challenge today! Cindy chose
The Pottery Barn
.
If using another gallery or your blog use the keyword CPC-FOF24. Have fun and let's see where you get your inspiration from!!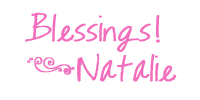 But let all those rejoice who put their trust in You; Let them ever shout for joy, because You defend them; Let those also who love Your name Be joyful in You. Psalm 5:11