Thanks for stopping by!!
I'm taking a break from cardmaking tonight and I did a scrapbook layout of Jakob. I was inspired by the sketch at
http://www.triplethesketch.blogspot.com/
. I had a series of pictures that were so sweet of Jakob looking out the front room window waiting for Poppa to come home from working at the mill. He still has the rosy cheeks from his nap and is holding his best bud, Lambie.
The title is from a song called "Jesus Loves Me"
I took the bottom three pictures and reduced them 50% to fit the page better. This is a very simple layout and I just love the papers and colors.
Here are the "ingredients"
Bo Bunny: Abbey Road line, patterned paper
Bo Bunny: Abbey Road line: buttons & bling
Queen and Co.: green pearls
Bazzill: brown card stock
Pink Paisley: Alpha stickers - Enchanting line
Scrapbook Adhesive runner
Yes! Paste, all purpose glue (I love this stuff!)
Tools: EK Success: photo corner scallops; Fiskars, trimmer.
Hope everyone has a super excellent Tuesday!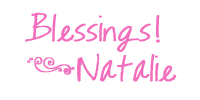 We love Him because He first love us. 1 John 4:19